Description
(Thyme liqueur, Thymus serpyllum)
The thyme contains essential oils, flavonoids, tannins and resins. It has digestive, antispasmodic, expectorant and antiseptic proprieties; thyme syrup is a natural remedy for persistent cough in children and for all forms of bronchitis. Thanks to its antiseptic proprieties, the plant's infusions are recommended in case of inflammation of the mucous membranes. The local applications of the essence on affected areas can relief from sciatica and rheumatic pains.
LINFA IN CUCINA
Nel salento oltre ai piatti contadini, sono tradizione anche i piatti a base di pesce, considerato la massiccia presenza di pescatori su tutta la costa. Tra le varie tipologie di pesce presenti nei fondali salentini, una delle più prestigiose è l'Orata, la sua qualità, se cotta alla perfezione dona al palato un gusto vellutato e delicato, rendendo così un piatto raffinatissimo e prelibato.
Orata al Timo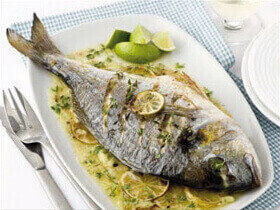 Ingredienti:
2 Orate già pulite (circa 700g ciascuna); 150g di piselli; 4 asparagi; 200g di piselli; 1 carota; 4 cime di broccoli; 3 rametti di timo; 3 cucchiai d'olio di oliva; 2 spicchi di aglio; 8 pomodori ciliegino; sale grosso; sale fino; pepe macinato; "Timu" Linfa Salento.
Per il dragoncello:
1 Scalogno; 60g di burro; 3 cucchiai di vino bianco; 20cl di fumetto di pesce; 2 rametti di dragoncello; 1/2 limone.
Preparazione:
Sgranare e lavare i piselli finissimi. Farli cuocere per 10 minuti in acqua bollente con un pizzico di sale grosso, quindi scolarli. Pulire gli asparagi e i piselli. Tagliare la carota a bastoncini. Far cuocere separatamente le verdure e i broccoli in acqua salata per 10 minuti. Scolarli appena sono cotti. Preparare la salsa al dragoncello. Pulire lo scalogno e farlo rosolare per 5 minuti in 10g di burro ammorbidito con del vino bianco. Mescolare bene e far cuocere fino a completa evaporazione del liquido. Bagnare il tutto con il fumetto di pesce e portare ad ebollizione. Togliere dal fuoco e aggiungere 50g di burro amalgamando con cura. Infine, unire la salsa le foglie di dragoncello e il succo di limone. Pulire le orate, lavarle e asciugarle. Insaporirle con sale, pepe, e un rametto di timo. Condire il pesce con olio di oliva, cospargervi sopra la quantità di un bicchierino da liquore di "Timu" Linfa Salento sminuzzare il resto del timo e disporre gli spicchi d'aglio tutt'intorno. Preriscaldare il forno a 250°C e infornare le orate per 10 minuti. Dopo di che, lasciar riposare per altri 10 minuti fuori dal forno. Lavare i pomodorini ciliegino. Riscaldare le verdure già pronte nella salsa al dragoncello e aggiungere all'ultimo momento i pomodorini. Ripartire il misto di verdure nei piatti. Filtrare l'acqua di cottura del pesce e unirla alla salsa di dragoncello. Disporre con cura i filetti d'orata sulle verdure. Aggiungere la salsa al dragoncello e servire immediatamente.
"Linfa Salento" is an exclusive, exquisitely handmade product with great quality.
Do you want to know what is it that makes it so unique? Try and close your eyes and imagine you're in Salento. Picture a land full of green, the land of the wild fennel and a whole lot of aromatic plants that grow wildly overhanging the sea. No chemical flavours, absolutely nothing that is artificial. The herbs we use for our brews are picked exclusively in the preserved natural area of Otranto-Leuca from june to november. We accurately pick the softest, sweetest plants with the most beautiful scent to keep our brews esteemed and fine. Could this be an elixir of life? We can't tell yet, but what we can tell is that you'll fall in love with it at soon as you taste it.