Description
(spicy chilli pepper, Capsicum)
Spicy hot liqueur is a liqueur … with character! Helps digestion by letting in the mouth its unmistakable spicy and spicy taste. If you love the "strong" flavors and especially the spicy taste, you absolutely have to try it will be the perfect conclusion of your every meal.
Features of this liqueur are many, but above all it should be mentioned digestive power that will give you relief even after the most challenging gourmet marathons.
LINFA IN CUCINA
La cucina salentina ha un grandissimo pregio, ovvero quello di riuscire a creare piatti estremamente gustosi e saporiti con ingredienti poveri e sani, da sempre presenti nella tradizione contadina. E se durante la vostra vacanza dovessero proporvi dei piparussi, sappiate che state per imbattervi in una delle ricette di contorni salentini più antiche e gustose che ci siano.
Peperonata salentina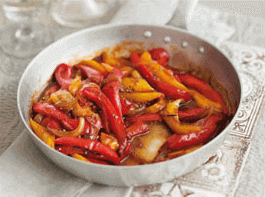 Ingredienti:
Peperoni dolci misti 1kg; pomodorini pachino 200g; mezza cipolla rossa di tropea; pepe; prezzemolo; origano; vino bianco; "U Focu Meu" Linfa Salento.
Preparazione:
In una pentola antiaderente far lievemente soffriggere, facendo attenzione a non farla annerire, la cipolla (possibilmente cipolla rossa di tropea) tagliata a spicchi sottili, versare dunque i peperoni dolci precedentemente tagliati a fette, lavati ed asciugati, i pomodorini pachino e rigirare più volte affinchè tutti i peperoni versati non raggiungono una temperatura omogenea; versare nella pentola un pò di vino bianco, coprire e lasciar cuocere facendo tirare l'alcol del vino, dopo aggiungere pepe nero macinato grosso e a piacere un pò di prezzemolo tritato e origano, portare a cottura finchè i peperoni non si ammorbidiscono. Pochi minuti prima di togliere dal fuoco la pentola, aggiungere la quantità di un bicchierino da liquore di "U Focu Meu" Linfa Salento. Lasciar intiepidire e servire a tavola accompagnando con del pane di grano o con delle frise ed un buon bicchiere di vino rosso.
"Linfa Salento" is an exclusive, exquisitely handmade product with great quality.
Do you want to know what is it that makes it so unique? Try and close your eyes and imagine you're in Salento. Picture a land full of green, the land of the wild fennel and a whole lot of aromatic plants that grow wildly overhanging the sea. No chemical flavours, absolutely nothing that is artificial. The herbs we use for our brews are picked exclusively in the preserved natural area of Otranto-Leuca from june to november. We accurately pick the softest, sweetest plants with the most beautiful scent to keep our brews esteemed and fine. Could this be an elixir of life? We can't tell yet, but what we can tell is that you'll fall in love with it at soon as you taste it.[:]