Ciceri tria is a typical fried pasta with chickpeas can you find in Salento, you must taste.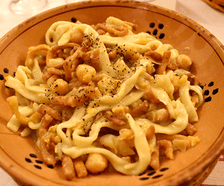 For 7/8 persons
INGREDIENTS:
1Kg. chickpeas
1 celery
1 clove of garlic
salt & pepper
½ kg of pasta
10 spoons of extravirgin olive oil
PROCEEDINGS:
The evening before the preparation you have to put the chickpeas in cold water with a half spoon of salt to soften them. The next morning, the chickpeas have to be dried, whashed and boiled on low heat with just enough water to cover them plus an inch more. After about 45 minutes add the salt, the celery and the garlic. The whole process have to take about 2 hours and a half and the water level has to always be an inch over the chickbeans level.
The most frequently used type of pasta associated with this kind of dish is the "Sagna" but any kind of pasta would do. When the cooking is almost done, take a tablespoon of chickbeans, mash it and put it back in the boiling pot, stir in the meantime. 10% of the Sagnas have to be fried in boiling oil while the rest has to be cooked normally, when they are half cooked they have to be put in the same chickbeans pot along with the fried ones, the frying oil and a bit of pepper. Let it rest for 5 minutes without lifting the cover of the pot.