GASTRONOMICAL TRADITIONS AND TYPICAL PRODUCTS OF APULIA AND SALENTO
Salento's cuisine is a poor type of cooking, essentially based on the few products earth gives us: olive oil, wine, legumes, cereals and vegetables. nonetheless it's very rich in a creative way, full of peculiar recipes which are different from a zone to another. Even small, the Salento territory offers a number of recipes and culinary specialities salty ones as well as sweet ones, preservation techniques and wines which are typical of a single territory or even a small village. In this deepening article we are going to try to offer a detailed view of what salento's cuisine means.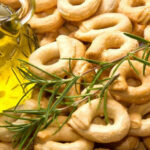 Taralli del Salento: to each his favorite online taralli Salento taralli are small rounded snacks that you will surely have had the opportunity to try at least once in your life. However, you may have tried commercial taralli, perhaps purchased at the...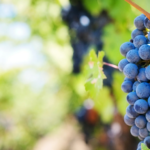 The cultivation of the vine is already attested in Salento around 2000 BC. and over the years it has become an integral and almost engine of the economy of the entire region. Contrary to what one might think, in Salento that of grapes represents the largest...
Olive oil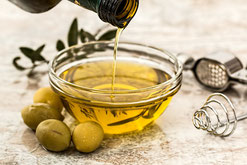 Salento's olive oil is esteemed and appreciated even on foreign countries. There is a number of factors that makes it so special, hard labor, harvesting and transformation techniques, but in this case, the best factor is our climate conditions. As a matter of fact, with about two hundred million kilograms only made in year 2011 Apulia is one of the major manufacturer of italy when it comes to olive oil, especially the extra virgin variety. Two of the major types of olive that grow in salento are "ogliarola" and "cellina di Nardò". The first one is very much appreciated for the abundant production of fruits, the second one is very resilient against parasites and climate changes and for constancy of production. Olive oil is one of the bases of salento's typical cuisine and it's used as an ingredient as well as a condiment, is frequently used as a preservative for certain types of food, mostly vegetables. Needless to say, olive oil is unanimously considered the pillar of mediterranean diet.
The frisa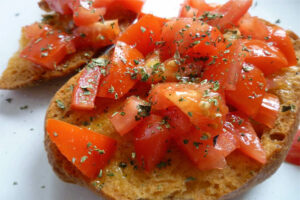 The "Frisa" is one of the best items of Salento bakery. It's made by drying and toasting wheat bread or barley bread in a double cooking process. It can be preferved for a very long time and before consuming it must be softened by putting it in water for a few seconds, and then seasoned with olive oil, sliced tomatoes and a little salt. It's a very simple and humble dish, it's very tasty too, and it's appreciated with summers warm weather.
Cunserva Mara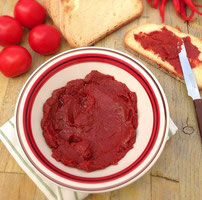 The "Cunserva Mara" (hot jam), is an important traditional Salento dish. It's simply made of tomato or pepperoni juice; it's very popular, mainly because it's easy and fast to prepare, and because it takes a lot of time before it spoils. It's primarily consumed by putting it on slices of bread with a little olive oil, or on the "Frisa".
Rustico leccese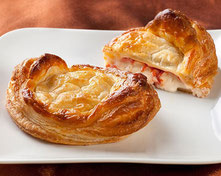 There's no particular story about the "Rustico Leccese" because its recipe is being passed from generation to generation mainly by voice. It's peculiarity though it's in the consistency of the recipe. it basically is a calzone full of mozzarella, besciamella and tomato sauce. It must be consumed when it's hot to truly appreciate the creaminess. The "Rustico Leccese" makes it's appearance on the National list of traditional agribusiness products.
Scapece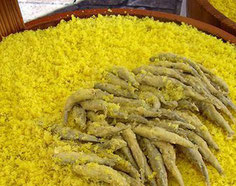 The "Scapece" has its roots in the middle ages, it was made to answer the necessity to preserve food for a long time. It's bright yellow and it can be easily found in popular markets and seasonal festivities alla around the salento region. It's basically made of fried fishes (picarels and boces) preserved marinating in vinegar soaked breadcrumbs with saffron wich gives the colour to the whole dish.
Pizzi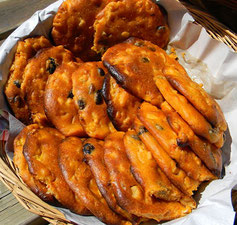 The "Pizzo" aka "Pizzaiola Puccia" is a very representative dish of Salento's poor cuisine. Born as a meal for farmers it was made at home and brought to the fields to be eaten at lunchtime. It's a kind of bread mixed with olives, extravirgin olive oil, onion, and pepper. It's a variation from the classic "Puccia" bread wich is made with wheat, sourdough and black olives.