Description
(Wild fennel liqueur, foeniculum vulgare)
Full of essential oil, vitamins and minerals, it helps digestion decreasing pain from colics. Noteworthy for antispastic proprieties and for relieving cramps of the digestive system.
Its also a very efficient antiseptic.
LINFA IN CUCINA
La macedonia è un fresco dessert preparato con frutta di stagione ideale da servire a fine pranzo o come genuina merenda. Può essere preparata con qualsiasi tipo di frutta a seconda del periodo dell'anno in cui ci si trova. Utilizzate il succo di un limone, dello zucchero semolato e qualche fogliolina di menta per arricchire e profumare ulteriormente la vostra macedonia.
Macedonia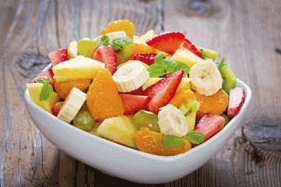 Ingredienti:
Fragole 200g; Melone polpa 100g; Succo di limone 1; Ananas 150g; Kiwi 200g; Banane polpa 150g; Zucchero 40g; "Finocchietto" Linfa Salento. per guarnire: Menta q.b.
Preparazione:
Per preparare la macedonia, iniziare tagliando il melone a fette e poi a cubetti. Pulite l'ananas e riducete la polpa a cubetti. Sbucciate i kiwi e tagliate anch'essi in piccoli cubetti, poi lavate bene le fragole, privatele del picciolo verde e tagliatele a metà o in quarti. In ultimo sbucciate le banane e tagliatele a rondelle non troppo sottili. Una volta aver tagliato tutta la frutta versatela all'interno di una piccola ciotola e mescolatela delicatamente. Ricavate il succo da un limone e aggiungetelo alla frutta, unite poi anche lo zucchero e mescolate ancora delicatamente. Lasciate riposare la macedonia per circa un'ora. Preparando le porzioni aggiungete ad ognuna di esse il quantitativo di in cucchiaio di "Finocchietto" Linfa Salento.
"Linfa Salento" is an exclusive, exquisitely handmade product with great quality.
Do you want to know what is it that makes it so unique? Try and close your eyes and imagine you're in Salento. Picture a land full of green, the land of the wild fennel and a whole lot of aromatic plants that grow wildly overhanging the sea. No chemical flavours, absolutely nothing that is artificial. The herbs we use for our brews are picked exclusively in the preserved natural area of Otranto-Leuca from june to november. We accurately pick the softest, sweetest plants with the most beautiful scent to keep our brews esteemed and fine. Could this be an elixir of life? We can't tell yet, but what we can tell is that you'll fall in love with it at soon as you taste it.