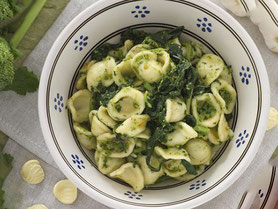 Perhaps the best known dish of the Apulian culinary tradition, now known everywhere, is a real institution for all pasta lovers: orecchiette with turnip tops! It is a good and naturally also healthy dish, based on one of the most popular Apulian vegetables outside the region, turnip greens. If you have never tasted them, they are florets of a plant similar to broccoli (more or less, just to be clear). They are the inflorescences of the plant from the turnip. Their flavor is unique and difficult to describe. Although to make you understand what it is we used the comparison with broccoli, in reality the flavor has nothing to do with that of broccoli or cabbage. It is a green vegetable flavor with a bitter aftertaste. If you are not using them to give life to the recipe for orecchiette with turnip tops, you can, alternatively, taste them after having briefly boiled them, and season them with raw oil (of course extra virgin olive oil from Puglia) and fresh squeezed lemon. But let's go back to our orecchiette with turnip greens and see how they are prepared.
INGREDIENTS:
500grams Orecchiette
1.5Kg. Turnip greens
2 cloves of garlic
2 marinated anchovies
cherry tomatoes
spicy pepper jam
spicy cheese
extravirgin olive oil
salt
PROCEEDINGS:
Clean the turnip greens by removing the outer leaves and removing only the inner leaves and the flower with a small knife (or with your hands). Wash the turnip greens thoroughly, drain and dry them. Put on the fire a pot with plenty of water, salted to taste, to subsequently boil the turnip greens.
In a large pan pour the olive oil and add the breadcrumbs, mix with a spoon and leave to toast over medium heat, until golden brown, then set aside. As soon as the water starts to boil, boil the previously cleaned turnip greens which will have to cook for about 5 minutes.
Meanwhile, pour some olive oil into a pan and add a clove of crushed garlic in a shirt and the anchovy fillets drained from the preservation oil. Stir with a wooden scoop to dissolve the anchovies; in a few minutes the sauté will be very tasty and when it is ready, remove the garlic and turn off the heat. After 5 minutes of cooking the turnip greens, add the orecchiette to the same pan and cook until the orecchiette are cooked.
Drain the orecchiette and turnip greens directly into the pan with the sauté. Jump briefly and season with a pinch of salt; once ready, turn off the heat and serve the orecchiette with turnip greens, add a drizzle of raw oil and toasted breadcrumbs to the last. Chilli pepper can be added as a condiment. Enjoy your meal!