5 BEST TRADITIONAL DISHES OF PUGLIA AND SALENTO
For those who decided to spend the holidays in Salento, or for those who, already passed by this beautiful land, he simply wanted to propose again the most delicious recipes, here you will find the 5 dishes that form the basis of apulian and salentina cuisine.
The polpo alla pignata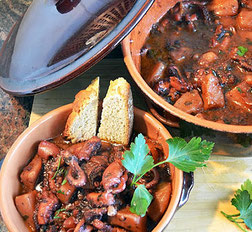 INGREDIENTS:
1 octopus
3 ripe tomatoes
1 red onion
1 roll of parsley
1 clove of garlic
1 leaf of laurel
pepper
olive oil q.b.
PROCEEDINGS:
The octopus has to be beaten for a long time to be softened, then sliced and washed. Put it in a terracotta pot with the sliced tomatoes, the garlic, the pepper and everything else. Cook it on low heat for a long time without adding water nor salt (the octopus has to be cooked with his own water). If you like you can add a pinch of pepper.