5 BEST TRADITIONAL DISHES OF PUGLIA AND SALENTO
For those who decided to spend the holidays in Salento, or for those who, already passed by this beautiful land, he simply wanted to propose again the most delicious recipes, here you will find the 5 dishes that form the basis of apulian and salentina cuisine.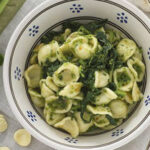 Perhaps the best known dish of the Apulian culinary tradition, now known everywhere, is a real institution for all pasta lovers: orecchiette with turnip tops! It is a good and naturally also healthy dish, based on one of the most popular Apulian vegetables...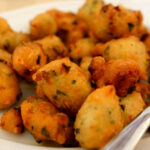 INGREDIENTS: 1kg of flour 00 1pc. of brewer's yeast salt q.b. 600ml of warm water condiments of choice olive oil PROCEEDINGS: Put 1Kg of flour in a bowl. Dissolve the yeast in 600ml of warm water. Make a hole in t...
Ciceri e tria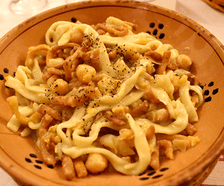 For 7/8 persons
INGREDIENTS:
1Kg. chickpeas
1 celery
1 clove of garlic
salt & pepper
½ kg of pasta
10 spoons of extravirgin olive oil
PROCEEDINGS:
The evening before the preparation you have to put the chickpeas in cold water with a half spoon of salt to soften them. The next morning, the chickpeas have to be dried, whashed and boiled on low heat with just enough water to cover them plus an inch more. After about 45 minutes add the salt, the celery and the garlic. The whole process have to take about 2 hours and a half and the water level has to always be an inch over the chickbeans level. The most frequently used type of pasta associated with this kind of dish is the "Sagna" but any kind of pasta would do. When the cooking is almost done, take a tablespoon of chickbeans, mash it and put it back in the boiling pot, stir in the meantime. 10% of the Sagnas have to be fried in boiling oil while the rest has to be cooked normally, when they are half cooked they have to be put in the same chickbeans pot along with the fried ones, the frying oil and a bit of pepper. Let it rest for 5 minutes without lifting the cover of the pot.
The polpo alla pignata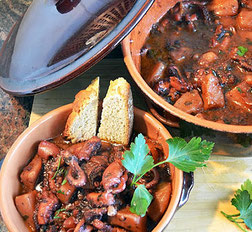 INGREDIENTS:
1 octopus
3 ripe tomatoes
1 red onion
1 roll of parsley
1 clove of garlic
1 leaf of laurel
pepper
olive oil q.b.
PROCEEDINGS:
The octopus has to be beaten for a long time to be softened, then sliced and washed. Put it in a terracotta pot with the sliced tomatoes, the garlic, the pepper and everything else. Cook it on low heat for a long time without adding water nor salt (the octopus has to be cooked with his own water). If you like you can add a pinch of pepper.
Pasticciotti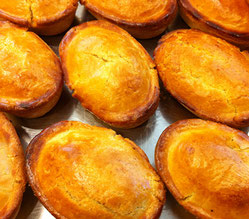 INGREDIENTI
pasta frolla:
600g di farina
300g di strutto
300g di zucchero
6 tuorli d'uovo
1 buccia grattugiata di limone
sale q.b.
crema:
1 litro di latte
6 tuorli d'uovo
150g di farina
300g di zucchero
1 buccia di limone
PROCEDIMENTO:
Preparare la pasta frolla con gli ingredienti elencati e farla riposare 30 minuti. Preparare la crema pasticciera e lasciarla diventare tiepida. Lavorare col mattarello la pasta frolla, sino a formare una sfoglia spessa 7-8 millimetri, quindi imburrare gli stampini e spolverarli di farina eliminandone l'eccesso. Con la pasta frolla coprire fondo e pareti degli stampini e bucherellarla con le punte della forchetta. Riempire di crema pasticciera fino all'orlo e con un altro pezzo di pasta frolla chiudere come fosse un coperchio facendo. Spennellare col bianco d'uovo leggermente battuto e mettere gli stampini in forno già caldo a 170° e far cuocere per 10 minuti; aumentare la temperatura fino a 200° e far cuocere fin quando la superficie dei pasticciotti sarà divenuta color ambra chiaro. Togliere i pasticciotti dal forno, attendere che si raffreddino, quindi liberarli delicatamente dagli stampini.